Teenage is that confusing phase where we are not sure about anything and mostly rebel against everything. There are a lot of movies in Bollywood about teenagers that are so relatable and everyone should watch at least once. Let's check out Bollywood movies for teenagers list.
Bollywood movies for teenagers
1. Wake Up Sid! (2009)
This movie is really relatable to every teenager and is the story of a spoiled and selfish guy Siddharth Mehra who joins college and he learns about life from an aspiring writer Aisha who is based in Kolkata. Siddharth is forced to change his lazy ways after he fails his final year and gets into an argument with his parents finally ending in him moving out. He is forced to find work and Aisha helps him find a photography internship in which he was interested. The sense of responsibility and being self-reliant changes him and he becomes a changed and well kept young man. This movie discusses all the issues in a teenager's life who ultimately finds the meaning of life. The role of the college guy Siddharth Mehra is enacted by Ranbir Kapoor whereas the writer Aisha Banerjee is enacted on screen by Konkona Sen Sharma. The movie was directed by Ayan Mukherjee and produced by Karan Johar's Dharma Productions. The film was a commercial success and its music is still famous. Ranbir Kapoor won many awards for this his acting in this movie.
2. Lakshya (2004)
Starring Hrithik Roshan as Karan Shergill, this movie os a coming-of-age Indian war drama. Preity Zinta, Boman Irani and Amitabh Bachchan play the other lead roles of his girlfriend Romila Dutta, his father and Col. Sunil Damle respectively. A young man with no particular aims for life joins the army when he hears that his friend is joining despite his parents' disagreement with his decision but backs off due to the difficult life there. But his girlfriend is disappointed with this and says that he need to set some goals in his life. Hence he goes back to impress his girlfriend and becomes a changed man. He becomes a dedicated army officer and will be cited for his bravery. He wins back a difficult terrain for the army even though he loses many men. The film is een to end in a hospital where Karan is reunited with his parents and girlfriend. The movie was directed by the famous Farhan Akhtar and produced by Ritesh Sidhwani. This story is a fiction set with a background of Kargil wars.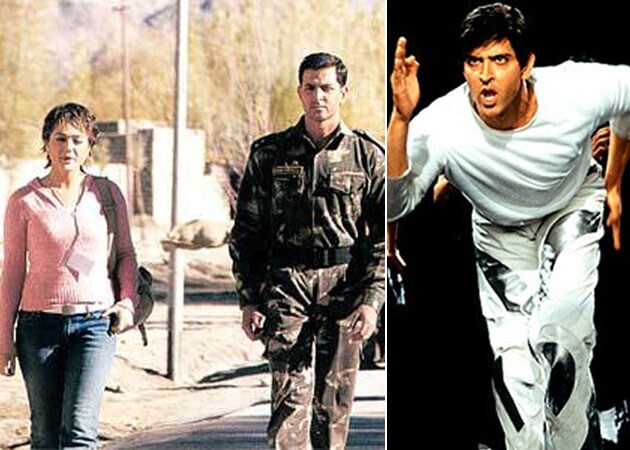 3. Bobby (1973)
A love story of a young Hindu man who falls in love with a Catholic girl named Bobby, this movie is a romance drama that shows the difficulties they had to overcome to be together in a society that does not approve of the inter-religious marriage. The protagonist named Raj is the son of a wealthy Hindu businessman whereas Bobby is a daughter of a poor Christian fisherman. Raj meets Bobby when he comes back home from his boarding school. His parents host a birthday party for him in which he meets Bobby. It is a love at first sight for him. Then the drama unfolds when his parents do not approve of their love and the events which lead up to them being together is shown in the rest of the movie. This movie was directed by Raj Kapoor and features his son Rishi Kapoor in his first leading role. Dimple Kapadia can also be seen in the main role and this is her debut movie. This movie can be said to have introduced the rich vs poor teenage romance in Bollywood and was a super hit of the time. Moreover, it also became popular in the Soviet Union with 62.6 million viewers, and thus, was one of the top 20 box-office hits ever in the country.
4. Tere Sang (2009)
A one of a kind story, this movie portrays the issue of teenage pregnancy. A 15-year-old girl Maahi Puri falls in love with a 17-year-old boy Kabir and she accidentally gets pregnant as they sleep together during a camping trip. They elope because the family is against them and do not support them caring for a child at such young ages but Maahi is against aborting their child. So they run away together and stay in an abandoned cottage to protect their child. Kabir starts working to earn money to look after Maahi and their child while Maahi works as a homemaker, cooking and cleaning for their small family. Ther parents have no choice but to find them and they do when they hear their friends talking about where they are staying hidden. When the parents approach them, Maahi and Kabir try to run away again but realize that the parents support them. Meanwhile, a case was filed against Kabir for teenage pregnancy but his father opposes the case and in the end, Kabir is sentenced to 3 months remand. This movie features Ruslaan Mumtaz and Sheena Shahabadi in her first role. The movie was directed by Satish Kaushik. This movie is also said to be somewhat similar to the movie '2 Young' starring Jackie Chan's son Jaycee Chan and Fiona Sit.
5. Masaan (2015)
This movie is the story of a girl frowned upon by the society for engaging in premarital sex and a boy hopelessly in love with a girl he can't have. Starring Richa Chadda as Devi Pathak and Vicky Kaushal as Deepak Kumar, it shows the female protagonist Devi being frowned upon by her society after having been caught having sex in a hotel room by some officers. The officers record her barely clad videos and threaten her father saying that they will file a case if he didn't pay the bribe money. The guy she slept with suicides at the same hotel room after being caught. Devi eventually moves to Varanasi for a job but the story of her pre-marital sex reaches there too and she is treated poorly by the people there. The male protagonist Deepak Kumar is of a lower cast and works at a crematorium like his family. But he doesn't want to do the family job and becomes a civil engineer. He falls in love with a girl who agrees to marry him even though he was of a lower caste. But she dies in an accident and her body ends up in the same crematory ground his family maintains. Heartbroken, he keeps her ring as a souvenir. But he overcomes his heartbreak and throws the ring in the Ganges. The ring will be found by a man underwater who was hired by Devi's father who sells it to finally pay off the bribe. Devi moves from Varanasi due to people's nature and finally meets with Deepak and they start a conversation.The movie was directed by Neeraj Ghaywan, the film is an Indo-French co-produced film. It won two awards at the 2015 Cannes Film festival.