Bollywood movies narrating the story of thieves and cons are always famous and become hits. These plots always make for interesting storylines with great twists. The screenplays and various scenes that take us through many twists and turns always makes for a really exciting and entertaining watch. When such good twists and surprises are supported by a great backstory, then the movie is sure to be super thrilling. so, let us check out some con themed Bollywood movies for an adventurous feel this weekend.
Con-themed Bollywood movies
1. Special 26
This movie by is a con-themed thriller and is full of twists with con artists posing as CBI officers to thieve black money from politicians and other rich men. Akshay Kumar and Kajal Agarwal star in the movie along with Anupam Kher, Manoj Bajpayee, Jimmy Shergill and Divya Dutta who play the other lead roles in the movie. The movie was directed by Neeraj Pandey and was regarded as one of the best movies of the year. It was praised for its plot and storyline. The movie was inspired by the 1987 Opera House heist where some people posed as CBI Officers to conduct an income tax raid on a jeweler from Mumbai. It was nominated for many awards including those for IIFA Award for Best Supporting Actor, Filmfare Award for Best Screenplay and many more.
2. Dhoom series
The entire Dhoom series of movies are action thrillers that which is centered around the cop who attempts to capture wanted professional criminals. The role of the cop Jai Dixit, who is an Assistant Commissioner of Police, is enacted by Abhishek Bachchan and his sidekick Ali Akbar Fateh Khan is enacted on screen by  Uday Chopra. The series is largely dependant on the antagonist and these two roles are constants throughout the series. 'Dhoom' and 'Dhoom 2' was directed by Sanjay Gadhvi and 'Dhoom 3' was directed by Vijay Krishna Acharya. John Abraham and Esha Deol were the leading characters in 'Dhoom' released in 2004 besides Abhishek Bachchan and Uday Chopra whereas Hrithik Roshan, Aishwarya Rai and Bipasha Basu starred in 'Dhoom 2' which was released in 2006. Dhoom 3 saw Aamir Khan and Katrina Kaif in the lead roles and was released in 2013. 'Dhoom' is the movie which shows gang robbery in which a group of bikers go on a robbing spree and targets a casino in Goa and ACP Jai with the help of Ali, tries to capture and arrest them. In the movie 'Dhoom 2', officers Jai and Ali are in pursuit of an excellent thief Mr. A who steals and collects valuable antiques and artifacts. He plans a heist with a girl who he is attracted to but whom he can't trust. The movie 'Dhoom 3' also features the characters Ali and Jai as officers but in this film, the lead role is that of a circus entertainer and magician who sets out to take down a famous corrupt bank in Chicago to avenge his father's death. The officers are seen chasing the entertainer in this movie.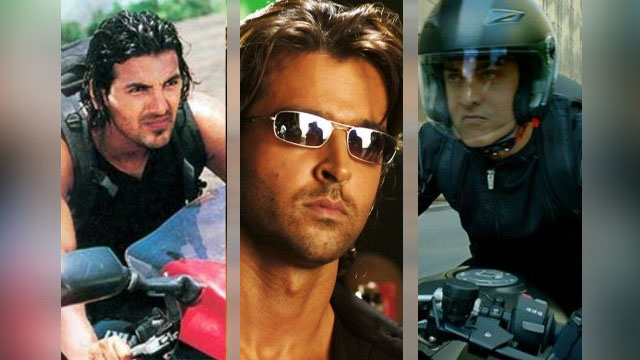 3. Mr. Natwarlal (1979)
The story of vengeance starring Amitabh Bachchan, Rekha, Ajith Khan and Amjath Khan, is a tale of a man seeking revenge for his brother who was wrongly framed – by becoming the crime lord of the underworld. The film was directed by Rakesh Kumar. The name of the movie as well as that of the protagonist was inspired by the real-life conman of India, Natwarlal. It speaks the story of Natwar, whose beloved brother Gridharilal who was a police officer, was framed by the notorious criminal masterminVikramam in the name of bribery. Natwar was furious and was seething with a vengeance. So, when he grew up, he faked himself as a powerful lord of the underworld Mr.Natwarlal, determined to seek revenge for his brother. It was easily a blockbuster of the time. This was the first movie in which Amitabh Bachchan sang and was a trendsetter for other movies to follow later on.
4. Ladies vs Ricky Bahl (2011)
This movie is the typical tale of boy cheating girls in the name of love, Ricky played by Ranveer Singh fakes falling in love with girls and takes money from them. The girls hire another girl Ishika Desai (Anushka Sharma) to take revenge on Ricky. The movie also features Parneeti Chopra, Dipannita Sharma and Aditi Sharma in the lead roles besides Ranveer Singh and Anushka Sharma. The movie was inspired by the novel 'Not A Penny More, Not A Penny Less' written by Jeffrey Archer and also from the Hollywood movie 'John Tucker Must Die'. It was directed by Maneesh Sharma and was one of the hit movies of the year and a commercial success. The movie shows three ladies who were cheated by the same con artist and the girls set out for revenge on him by hiring Ishika with whom the con man falls in love for real and she falls for him too. But he finds out she was tricking him and his ego drives him to cheat her and he leaves with the money. But later he feels guilty and returns all the swindled money to the 4 girls and reunites with Ishika. The movie ends with a happy and romantic note.
5. Bunty Aur Babli (2005)
Starring Abhishek Bachchan in the role of the male protagonist Rakesh Trivedi and Rani Mukherjee in the role of female protagonist Vimmi Saluja, this movie is the story of two people who run away and become famous cons wanted by the law. It was one of the biggest hits of the year and also featured Amitabh Bachchan in the supporting role. It was the first movie to feature Amitabh Bachchan and Abhishek Bachchan together and also had guest appearances of Aishwarya Rai and Tania Zaetta. Even though it is centered on crooks and criminals, the film is completely non-violent and is depicted throughout in a funny way without any blood or gore and is actually quite pleasant to watch. It was directed by Shaad Ali and was a commercial success progressing on to being one of the super hits of the year 2005. It tells the tale of Rakesh, who is the son of a common small jobbed father. Rakesh has big dreams but his father wants him to do a typical 9 to 5 job which Rakesh adamantly refuse. He is threatened by his father to get such a job or to get out of the house. Vimmi is a Punjabi girl who dreams of becoming Miss India one day but her parents fix her marriage with a young man with a good job. So both Vimmi and Rakesh run away from their homes at night and meet each other at the train station. They become acquaintances and encourage each other. They eventually con a man to take the money that was rightfully theirs. Realizing how easy it was to con people, they continue doing it and become wanted criminals called 'Bunty' and 'Babli'. Later, they fall in love, get nearly caught and also have a child which forces them to stop their business. The film ends in a happy note with a happily ever after.